Opening General Session
(From 2020 Mega-Conference, 2021 info to be posted when available)
Monday, November 16, 2020
9:00 am – 11:00 am
EPA Update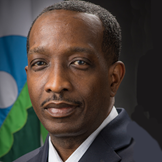 Dr. Andrew Sawyers
Director, Office of Wastewater, USEPA
Dr. Sawyers will discuss EPA's activities in support of onsite and decentralized wastewater systems. He will place particular emphasis on their implementation of federal legislation related to decentralized wastewater, and other EPA programs.
Biography: In his capacity as the Director of the EPA Office of Wastewater Management Dr. Sawyers oversees the National Pollutant Discharge Elimination System (NPDES) program, the Clean Water Act's mechanism for the permitting of municipal and industrial discharge into surface waters of the U.S. As the Director of OWM, Dr. Sawyers is also responsible for multiple technical and financial assistance tools for the development and maintenance of the country's wastewater infrastructure, including WIFIA, the Clean Water State Revolving Fund (SRF) and EPA's Water Finance Center. He previously worked for the Maryland Water Quality Financing Administration where he managed the state's Clean Water and Drinking Water SRFs and the Maryland's Chesapeake Bay Restoration Fund. He has a Ph.D. from Johns Hopkins University in Geography and Environmental Engineering.
USDA Update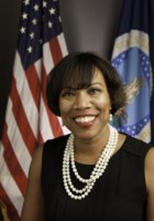 Edna Primrose
Assistant Administrator, USDA Rural Development Water and Environmental Programs
Ms. Primrose will provide an overview of the various financial programs USDA provides to support rural water infrastructure. She will also provide details about USDA's new Rural Decentralized Water Systems Grant program. This is a new program which will provide low-interest loans to financially disadvantaged rural homeowners to repair/replace malfunctioning onsite systems.
Biography: Edna Primrose was named Rural Development's Assistant Administrator for Water and Environmental Programs in April 2018. In this role, Ms. Primrose leads multi-billion dollar direct and guaranteed loan, grant, and loan guarantee programs to benefit water and waste disposal systems in rural communities. Prior to assuming her new position, Ms. Primrose served as Rural Development's Chief Operating Officer since 2012. She was responsible for providing executive leadership in administering all administrative management program policies and operational support for the entire Rural Development Mission Area.
Ms. Primrose served as the National Director for the Office of Job Corps, managing large-scale programs at the U.S. Department of Labor. She has served in executive leadership roles in both the public and private sectors for over 20 years. Ms. Primrose earned a Bachelor's degree from Towson University, Towson, MD.
Status of Advocacy / Lobbying Efforts on Behalf of Onsite and Decentralized Wastewater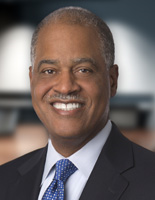 Hon. Alan Wheat
Partner, Polsinelli, LLC
Mr. Wheat is a former Member of Congress who leads Polsinelli's Washington Government Relations team, which represents NOWRA on Capitol Hill. He will provide an analysis of the legislative and regulatory landscape, initiatives underway which may have an impact on the onsite/decentralized industry, and steps the industry can take to increase its influence in Washington on those initiatives, particularly in light of the 2020 election.
Biography: With 18 years of experience as an elected official, and chair of Polsinelli's Public Policy practice, the Honorable Alan Wheat Congressman Wheat counts many of Washington's most influential voices among his relationships. Those relationships are at the highest levels of Executive Agencies, the White House, House and Senate leadership, the key committees in both the House and Senate and numerous advocacy organizations. In 1982 he was elected to the United States House of Representatives, where he became part of the House leadership as the youngest member in Congressional history to be appointed to the powerful Rules Committee. While in Congress, he was one of the nation's first African-Americans to represent a district with a white majority. Following his Senate race, Congressman Wheat became Vice President of Public Policy and Government Relations with one of the largest and most vital global relief and development organizations, CARE.
Restoring the Chesapeake Bay and the Role for Wastewater Treatment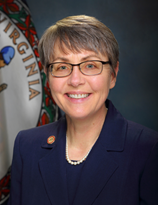 Ann Jennings
Deputy Secretary of Natural Resources for the Chesapeake Bay, Commonwealth of Virginia
A decades-long regional effort to reduce nutrient pollution to restore the water quality of the Chesapeake Bay and its tributaries is showing results but additional challenges remain. Clean water practices are being employed on farmland, urban centers and wastewater treatment systems. Providing and maintaining adequate wastewater treatment are critical to Chesapeake Bay restoration as well as for public health and local economies.
Biography: Ann Jennings is the Deputy Secretary of Natural Resources for the Chesapeake Bay under Secretary of Natural Resources Matt Strickler in the office of Governor Ralph Northam. Prior to her current position, she was the Virginia Director of the Chesapeake Bay Commission, a tri-state legislative commission created to advise the General Assemblies of Maryland, Pennsylvania, and Virginia on matters of Bay-wide concern. Prior to the Commission, Ann served as the Virginia Executive Director of the Chesapeake Bay Foundation. Ann's career also includes work as a biologist with the U.S. Fish and Wildlife Service. Originally from Virginia Beach, Ann received a bachelor's degree in biology from Virginia Tech and a master's degree in wildlife and fisheries sciences from Texas A&M University. Ann is a graduate of the Virginia Natural Resources Leadership Institute and the Sorensen Institute's Political Leaders Program.