2021 Conference Proceedings
Select Papers and all presentations from the 2021 Onsite Wastewater Mega-Conference are posted below on this page. Presentations are posted in PDF and are listed in the Grid on the bottom of this page based off of the final Mega-Conference agenda.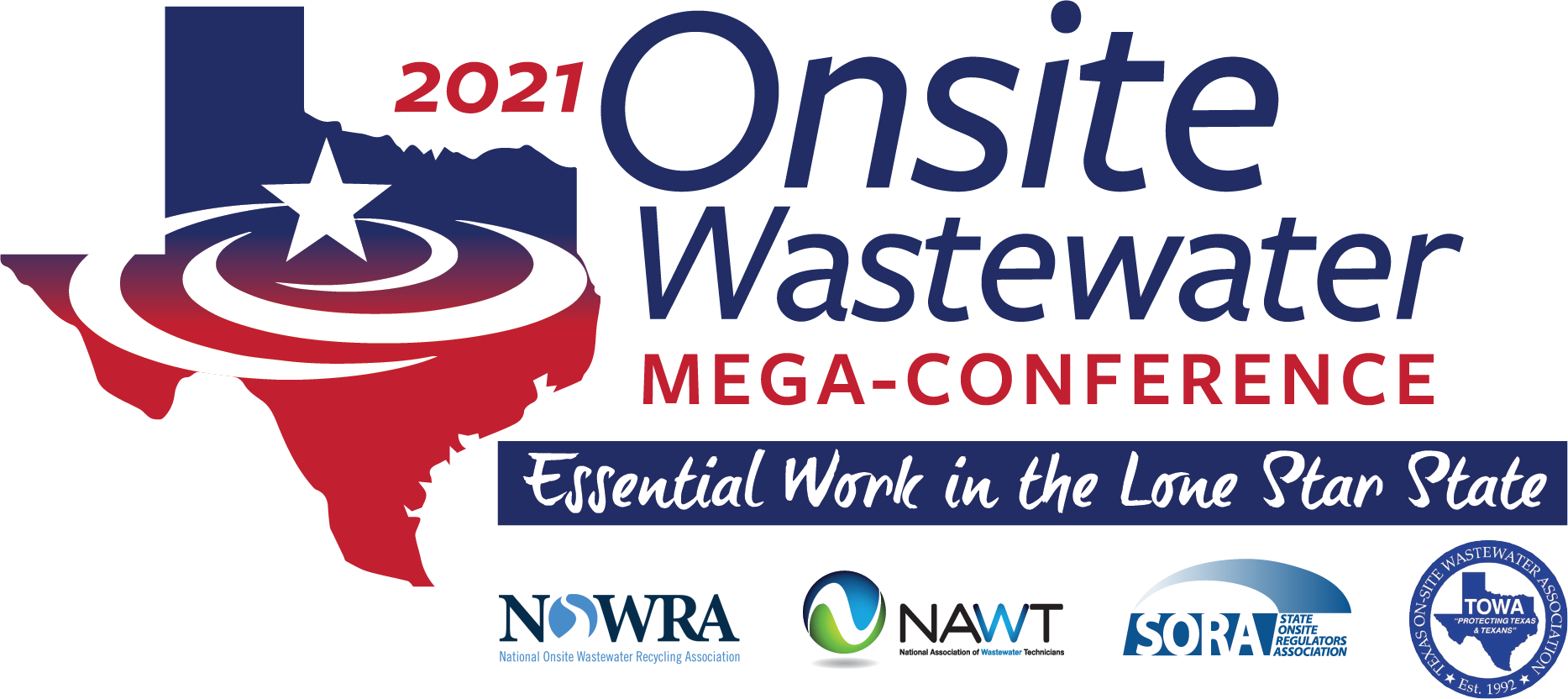 Select papers prepared by the authors and reviewed by the NOWRA Technical Practices Committee are listed here:
Thanks for your support and attendance at the Conference. Hope to see you next year in Springfield, Missouri!
Monday, October 18, 2021

Opening General Session

Resiliency, Sustainability, and Onsite Wastewater, John Blount, P.E., Harris County, Texas

The Science of Science: Identifying Strategic Research Needs, Bryan Brooks, Ph.D., Baylor University

US EPA Update - Andrew Sawyers, Office of Wastewater Management

How NOWRA Represents Your Interests in Washington, DC, Tracy Hammond, Polsinelli, LLC

NOWRA Announcements and Setting the Stage, Sara Heger, Ph.D., NOWRA President

Policy and Education
Installation and Management
Equipment and Advanced Treatment
TOWA
NAWT

EPA's Decentralized Wastewater Program Update

Lowenstein

The Environment Beneath the Skid-Steer

Lentz

Media Filter Operational Process

Sherman

TSS - Sources, Impacts and Solutions

Heger

The Life Cycle and The Principles of OWTA

Seipp

Decentralized Needs and the Clean Watersheds Needs Survey

Schlaudt

Source Water Protection and OWWS

Ervin

Bair

Flow Equalization Tanks to Manage Wastewater

Lesikar

The Beginning Life and Design Principles

Carney

Decentralized Wastewater Inadequacies

Maxcy-Brown

Septic Tank Design Review and Inspection

Broussard

Resilient, Adaptable, Liquid-Only Sewers

Pringle

Hallahan

Assessment of Onsite Wastewater Treatment Systems

Yarrington

Tuesday, October 19, 2021

Policy and Education
Challenges in Wastewater
Equipment and Advanced Treatment
TOWA
NAWT

Online Training for Soil and Site Evaluation

Mancl

Impacts of COVID-19 on Septic Systems

Heger

Case Study: High Strength Membrane Bioreactor

Sherman

Water Reuse Using Drip and Spray Distribution Systems

Lesikar

The Life Stage and Installation Principles

Seipp

Ossan & Wirth

Updates on State Funded Onsite Research

Jantrania

Wastewater Island in Henrico Co., VA

Revis

Challenges of High Strength WW Treatment

Seguin & Belanger

Understanding RV and Camper Wastewater Streams

Blodig

Mid-Life and Operations & Maintenance Principles

Seipp

Using Modeling to Assess Septic System Regulations

Abit

Bonaiti

Long-Term Performance of Two Disinfection Approaches

Belanger

Heger

Mid-Life and Inspection Principles

Seipp

Nitrogen Management in Florida's Springsheds

Lusk

Funding and Business Management
Challenges in Wastewater
Wastewater Treatment and Reuse
TOWA
NAWT

SRF grants for Failing Onsite Remediation in Arkansas and Missouri

Cassaletto

Synthetic High Strength Waste - Evaluating Aerobic Treatment Units

Wolfe

Salvatelli

Resilient Wastewater Solutions

Hanson

The Full Life and Business Principles

Wilson

Leverage Free Google Resources To Grow Your Septic Business

Credere

Case Study: Slaughterhouse Wastewater

Mercier

Lowe

Pump Tanks Used to Communicate the Need for Maintenance

Lesikar

The Principled Approach of Wastewater Treatment

Seipp

Blurred Lines of Onsite and Centralized

Kaiser

Oxenham

Revis

Large Community On-Site System in NC

MacConnell

Precast Concrete Tank Inspections & Installation

Hanson

The Summary of the Life Cycle and the Principles

Seipp